Shipping end May 2020:
The Mayflower 400 Double DVD
Exploring the historical back-story of the Mayflower and Speedwell sailing in 1620, and the reasons for the 'Great Migration' to the New World.
Featuring contributions from over 40 academics, historians, authors and experts from Holland, the UK and the USA.  Filmed in key locations associated with the story including London, Leiden, Southampton, Cambridge, Oxford, Babworth, Scrooby, Austerfield, Sturton Le Steeple and Gainsborough.
You will also be able to share a unique guided tour of English Medieval churches and their furnishings, which highlight the changes during and after the Reformation.
Also includes special tours of Oxford, Cambridge, Southampton, London and the Pilgrims Trail in Nottingham and Lincolnshire plus footage of the Drapers Guild archives, a Breeches Bible and an Eliot Bible – the first book printed in America and in the Massachusett language of the local Native Americans'.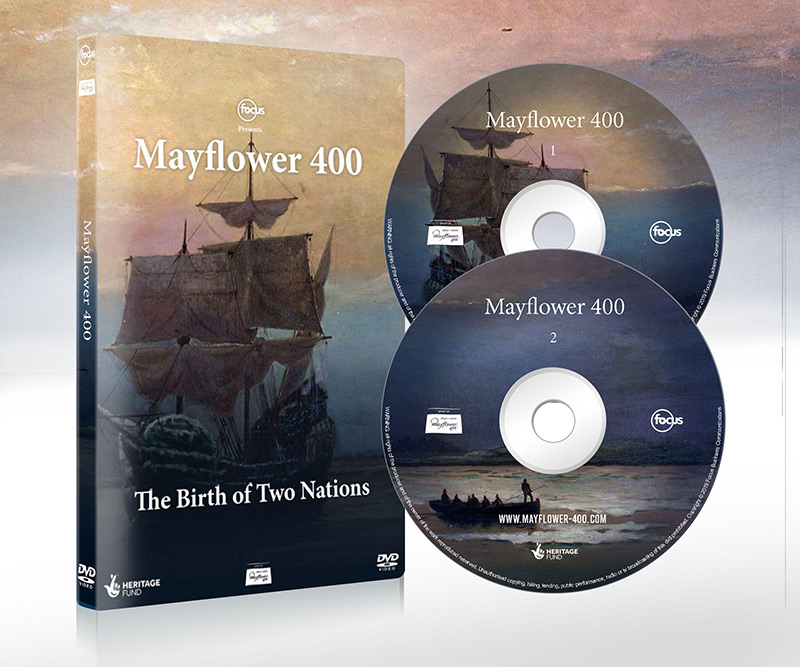 The Backstory to the Sailing of The Mayflower (Preview)
Reserve your DVD
Available from the end of May 2020
Price:
UK – £20.95 plus £2.75 shipping
USA – $25.99 plus $6.00 shipping
Mainland Europe – €22.00 plus €4.00 shipping
Other Destinations – Please contact us
20% 'Early Bird Discount'
Pre-order today using the online form for your 20% discount when making payment, or ask to be kept up to date with our latest news.
Bonus Online Footage – FREE
Purchase the DVD and you will get a link to free online footage with all the interviews with experts in full. In total there is over 30 hours of interviews, with accompanying maps, illustrations and images. That footage is equivalent to another 15 DVDs!
Video Production by Focus
To find out more about the producers of the Mayflower 400 Documentary, please visit focusbiz.co.uk